The fact that Peyton Manning and Todd Helton were University of Tennessee quarterbacks at the same time is old, well-known news. That's why you shouldn't be surprised to see them pose for this picture at Coors Field this afternoon.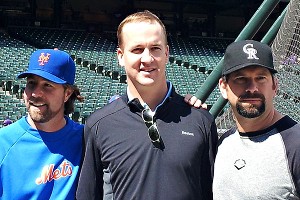 But what the hell is R.A. Dickey doing there? He's not even looking at the camera and seems like the dude that no one wanted in the picture.
Well, it turns out that Dickey was at UT at the same time as Peyton, though he didn't play football there. Either way, it's a funny picture, especially if you take it at face value and think Dickey doesn't belong there.
(Photo: Jim Caple/ESPN.com)